Essential for your Digital Strategy
Call analysis platform
from online to offline
Add Call Intelligence to your marketing communications
by assigning a unique telephone number to each client in both organic traffic and campaigns.

Understand
which campaigns and keywords are boosting your calls and forms.
Find out where Users come from
and personalize acquisition elements on your website according to them.

Visualize your results
from online or offline in your marketing platforms.
Optimize your marketing strategies
and make intelligent decisions with the help of our reports.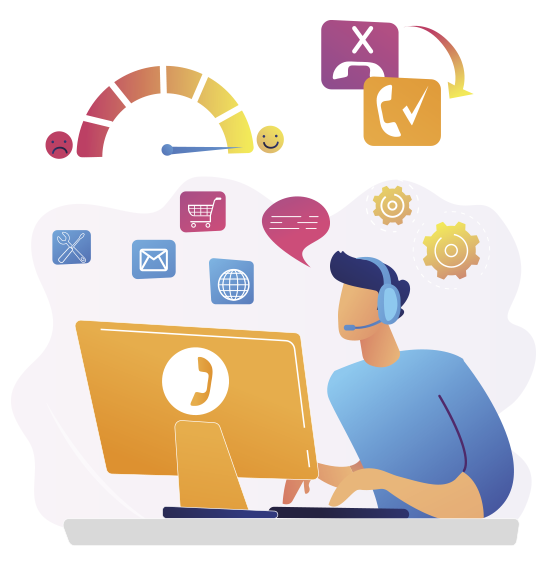 WHY YOU NEED TO OPTIMIZE YOUR CALLS
Optimizing your calls is a must!

Because: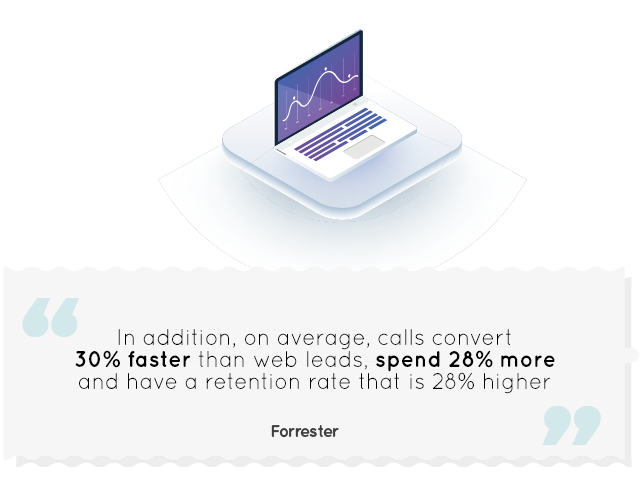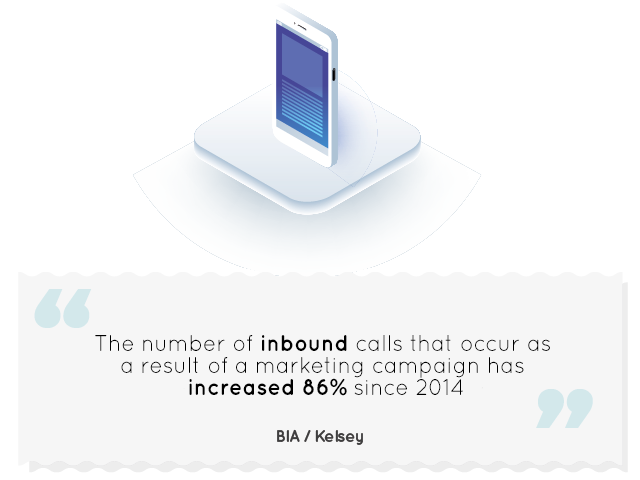 FEATURES
Each User is unique,
treat them as such!
We believe in customization and so we help you deal with each of your Users individually with customized acquisition elements and assigning a dynamic telephone number.

In addition, thanks to our Artificial Intelligence you will be able to know which one of them has the highest conversion probability so that you can carry out actions that provide value to your business.

Tracking

Qualification

Conversion

Artificial Intelligence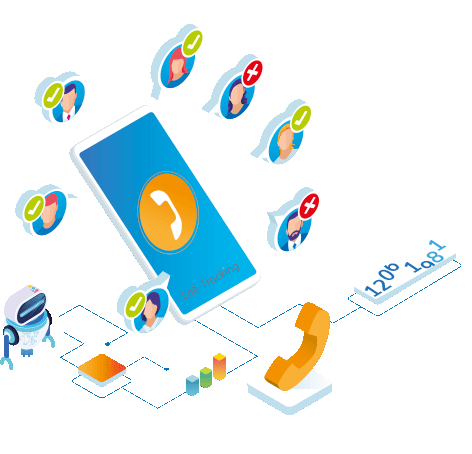 FEATURES
Efficient calls,

labelled and analysed
Our tool includes complete reporting of all gathered data to help you with decision making and optimizing your marketing campaigns in order to grow your business.
Included elements:
Lead source
Campaign
Keyword
Conversion site
Lead acquisition elements
Funnel levels
And more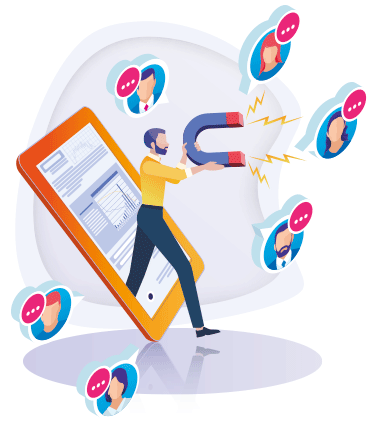 FEATURES
Quick and easy


connection
You can quickly and easily connect our tool with your online marketing ecosystem with the purpose of real time attribution of the gathered data.

Connection with:
Google Marketing Platform
Facebook Marketing Platform
Adobe Experience Platform
Salesforce Marketing Cloud
Hubspot CRM Platform
Microsoft Dynamics 365
DMP, DSP and more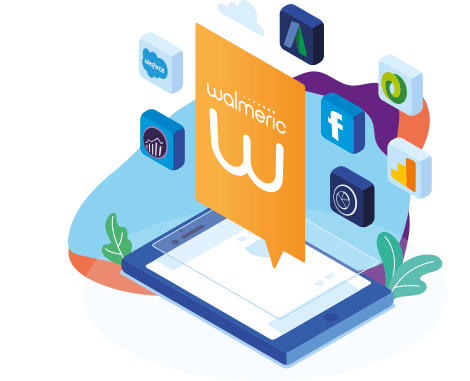 OUR BADGES
Unlock your

ROPO potencial
As a badged partner, Walmeric can help you optimize your Online and Offline conversions by passing on the value gained from access to this program and our proven expertise.
SERVICES
Lead funnel
services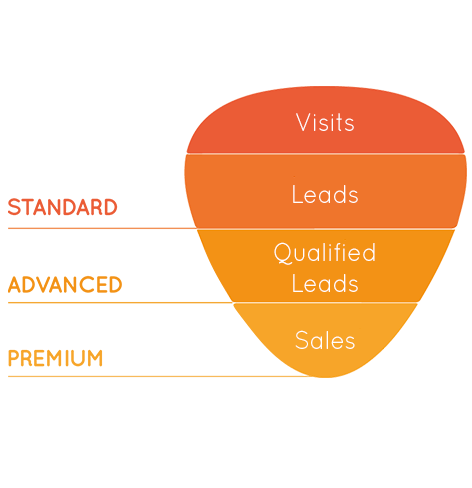 It provides information on:
• Dynamic Click to Call
• Call me Back
• Web Form
• Lead Scoring
• Contact duration
• Sales team
• Sales closing without AI
• AI Offer - Quotation / Visit
• AI Sale – Product and price
• AI No sale - Reason
It allows to improve

Marketing optimization:
First Party Data · Search optimization · Programmatic Marketing · Audience Targeting · Segmentation · Lookalikes · Site Personalization · Retargeting · Neutralization · Nurturing · Upselling and Cross Selling
Testimonials
Our

clients

We are a leading company in developing technology for B2C companies with assisted sales. Managing millions of leads per year keeps us on the cutting edge.
"Walmeric has provided us with that spark of innovation that sometimes is the only way to help us to improve day by day and to be more efficient."

"In just 2 months, this Lead Management platform has allowed us to build a ROPO model by optimizing processes from the Online channel to the Offline one (Dealer Network)."
"Having information on each call allows us to efficiently manage each of our leads, improving our sales results in campaigns."

"We have implemented this Lead management tool on our site. The objective was to optimize conversion by means of one-to-one lead qualification treatments for those captured online: Click2Chat, Click2video and Lead Nurturing."

"The ability that Walmeric offers us in terms of tracking, routing, it's full integration with our Call Center management systems and the provision of tools such as Cobrowsing are essential to increase commercial results in a cost-efficient model."
Clients
They

trust us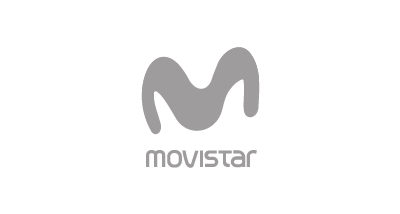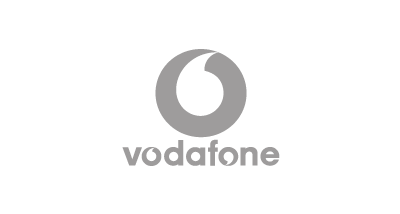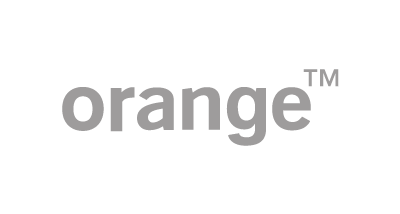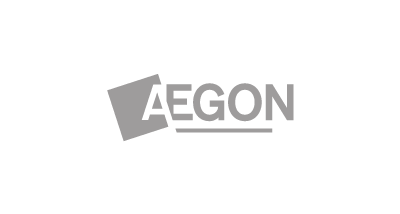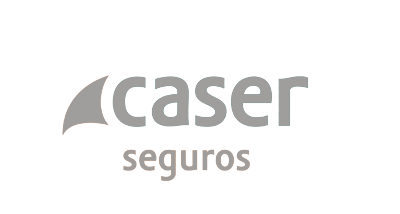 Request your demo
And discover what Walmeric's Call Tracking can do for your business.